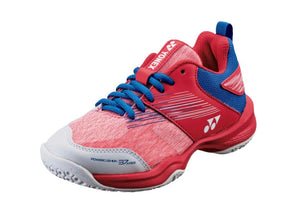 SHB-37JR Youth Badminton Shoes
For sizes Jr 4 (22 cm) or larger, please look at women's (size US 5.5) or men's (size US 4) sized shoe models.  
The Yonex SHB-37 JR badminton shoes are affordable shoe with reliable traction and cushioning for the feet and joints, junior fit.
Upper: P.U. Leather; 
Polyester Mesh
Midsole: Power Cushion, E.V.A.
Outsole: Rubber
Color: White/Red
Click here to view the Yonex Shoe Size Chart
We recommend going up 1/2 size from your regular sneaker size for Yonex badminton shoes (i.e.: If you wear a size 8 in sneakers, it is recommended to order size 8.5)