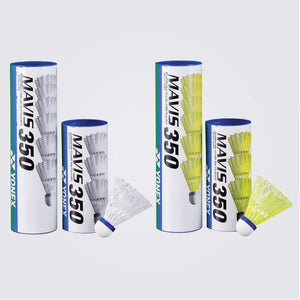 The Mavis shuttles are top of the line plastic shuttles made to mimic feathered shuttle flight while also providing more durability.  The Mavis 350 shuttle is a light-weight shuttle that provides just enough drag to be most like feathered shuttles.  
Item Code: M-350
Speeds: Medium
Colors: White or Yellow
Please email sales@badmintondirect.com for a quote on volume orders (10 or more tubes).
Available in half dozen per tube.
Fast speed is discontinued by Yonex.