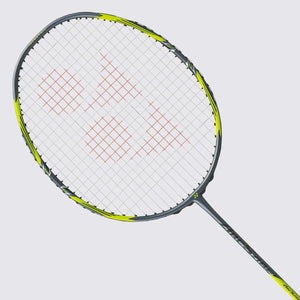 Yonex Arcsaber 7 Pro Badminton Racket
New Redesign!
Back due to popular demand!  The Yonex ArcSaber 7 Pro is a new redesign of the popular ArcSaber 7. This racket is the answer to the question, offense or defense? Why not have both!  The ArcSaber 7 Pro is an EVEN BALANCED badminton racket offering both powerful steep smashes and fast control. Try it out today! The overall balanced design makes this racket perfect for pros and beginners alike!
The ARCSABER frame is designed to flex at the point of impact to hold the shuttle on the string bed for longer. By storing and then releasing energy, ARCSABER delivers precise shot-making for players seeking a higher level of control. Positioned at the sides of the racquet, CS Carbon Nanotubes improve the frame's elasticity, holding the shuttle on the string bed for enhanced control at the point of impact.
| | |
| --- | --- |
| Flex: | Medium |
| Frame Composition: | HM Graphite / Pocketing Booster |
| Shaft Composition: | HM Graphite / SUPER HMG / Ultra PE Fiber |
| Joint: | NEW Built in T-Join / T-Anchor |
| Length: | 10 mm longer |
| Weight/Grip: | 4U (Avg. 83g) G5 |
| Stringing Advice: | 4U: 19 - 27 lbs |
| Color(s): | Yellow/Gray |
| Manufactured: | Made in Japan |
| Item Code: | ARC7-P |
*Stringing above the manufacturer's recommended tension can compromise the integrity strength of the racket frame. Therefore, will void the manufacturer's limited warranty.*
BadmintonDirect.com is an authorized dealer for Yonex Badminton, and all Yonex rackets come with a 1 year warranty against defects, if you encounter any issues during this period please email us at support@badmintondirect.com and we will be happy to assist you.