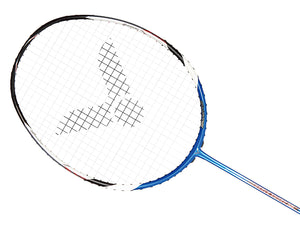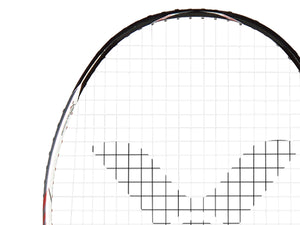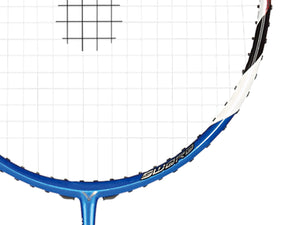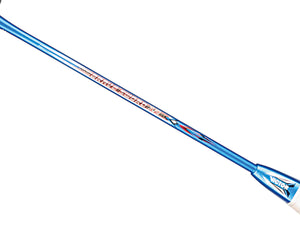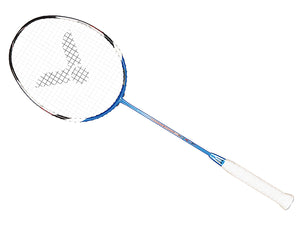 Victor Brave Sword 12 Badminton Racket
The Victor Brave Sword 12 is classic, and popular badminton racket from Victor Sports. This is a medium flex, even balance racket that is easy to use and provides both excellent smashing power, and precise control.
The Brave Sword 12 uses new technology to reduce air resistance during a swing by 10%. The diamond-shaped design cuts through the air like a sword, vastly reducing air resistance while encouraging nimble handling. While the inner-waves technology provides more consistent and stable shots. great racket for those who are looking for a all around performance racquet.
Sword - This diamond-shaped design cuts through the air like a sword.  It significantly reduced air resistance and provides a faster swing speed.
Nano Tec - The NANO TEC technology works by evenly distributing nano-sized particles in the vacant space between carbon fiber bundles, this highly increases the overall stiffness of the carbon composite fibers, and reduces the distortion of the frame.
BadmintonDirect.com is an authorized dealer for Victor Badminton, and all Victor rackets come with a 1 year warranty against defects, if you encounter any issues during this period please email us at support@badmintondirect.com and we will be happy to assist you.


*Stringing above the manufacturer's recommended tension can compromise the integrity strength of the racket frame. Therefore, will void the manufacturer's limited warranty.* 
Product Specifications
| | |
| --- | --- |
| Length | 675 mm |
| Racket Flex | Medium Flex |
| Racket Balance | Even Balance |
| Weight / Grip Size: | 4UG5 |
| String tension: | 4U:≦ 31lbs (14Kg) |
| Frame Material: | High Resilient Modulus Graphite + Nano Resin |
| Shaft Material: | High Resilient Modulus Graphite + Nano Resin + 7.0 Shaft |