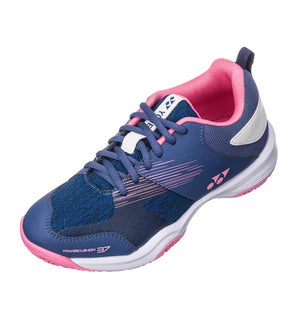 2023 Yonex Power Cushion SHB37LEX Ladies Badminton Shoes
POWER CUSHION
A lightweight, impact absorbing material developed independently by Yonex which quickly returns to its original shape after receiving a shock load, converting the shock energy into power for fast and light footwork.
POWER CUSHION Plus
By adding a special elastic resin to the POWER CUSHION, while maintaining conventional lightweight properties, high shock absorption is realized. Grooves designed in a lattice pattern, with optimum spacing and depth, achieve further resilience.
Lateral Shell
Mounted on the outside of the forefoot - heel section. Power loss is reduced with side and diagonal steps.
Seamless Upper
By creating the upper from one-piece of artificial leather from the forefoot part to the outer part of the middle foot part, stress-free foot contact is realized. When combined with the lateral shell there is a synergistic effect, producing a soft and comfortable upper that adapts to your feet from the moment you wear it.
Upper: P.U. Leather; Polyester Mesh, Tough Guard TM III
Midsole: ToughBrid Light, Solid E.V.A., Power Cushion, Power Graphite Sheet
Outsole: Rubber
Color: Navy/Pink
Click here to view the Yonex Shoe Size Chart
We recommend going up 1/2 size from your regular sneaker size for Yonex badminton shoes (i.e.: If you wear a size 8 in sneakers, it is recommended to order size 8.5)