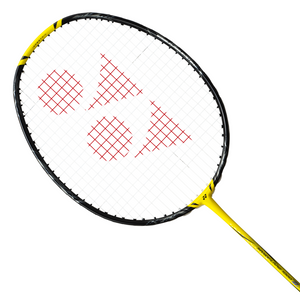 2023 Yonex Nanoflare 1000Z Badminton Racket 
A beautiful new racket from Yonex!  Lightning strikes with the brand new NANOFLARE 1000. Uncharted speeds became reality with the realization of this new flagship racquet. The NANOFLARE 1000 is designed with the motif of a column of light, a design expressing the speed, and power of a launched shuttle.

The NANOFLARE 1000 series is designed for players looking for additional shot
and swing speed with agile maneuverability.

*Recommended String: Hard-hitters - EXBOLT 65 / Control - AEROBITE

AERO COMPACT FRAME
(Wide Profile Frame + Compact Frame Shape=AERO COMPACT Frame) The NANOFLARE 1000's unique frame design combines a wide frame with an AERO shape and compact frame to improve repulsion while reducing air resistance.

*Compact Frame Shape: By reducing the frame area, power is concentrated on the sweet spot, improving repulsion, and reducing air resistance at swing.

SPEED-ASSIST BUMPER
The SPEED-ASSIST BUMPER is a connected grommet containing highly rigid material that is resistant to warping. These are attached to the lower part of the frame to reduce frame warp and improve repulsion performance.
SONIC FLARE SYSTEM
The new graphite material M40X* and Super HMG provide unrivalled power and stability for maximum shuttle acceleration. *TORAYCA® M40X is a next-generation carbon fiber developed by Toray Industries, Inc., for the complex combination of both high strength and high elasticity.
ISOMETRIC
A square-shaped ISOMETRICTM racquet generates a 7% larger sweet spot for greater control without sacrificing power.
*Stringing above the manufacturer's recommended tension can compromise the integrity strength of the racket frame. Therefore, will void the manufacturer's limited warranty.*
Flex:  Extra Stiff
Frame: H.M. GRAPHITE/ NANOMETRIC DR /M40X / EX Hyper MG
Shaft: Super Slim Shaft / H.M Graphite / ULTRA PE Fiber
Weight /Grip Size: 4U (Ave.83g) G5 
Stringing Advice: 4U 20-28 lbs,
Color: Lightning Yellow
Made in Japan