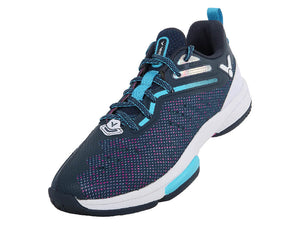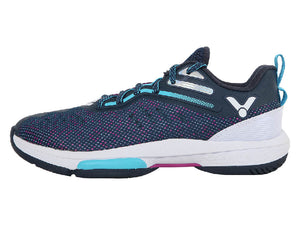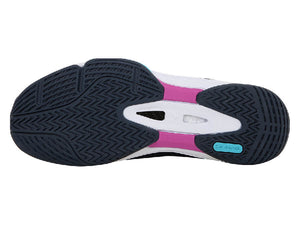 Victor P9600 Blue/Purple Unisex Performance Wide Badminton Shoes

Victor's new Unisex P9600 is continuing the characteristics of stable shock absorption of the P9000 line of shoes.  A new design in a beautiful blue and purple color


Taking the incredible comfort and shock absorption of the first two generations, we are now launching P9600—our first wide-last and thick-soled badminton shoe.

Clean and streamlined, the upper gives off a fresh and energetic vibe through the use of contrasting materials and colors. It even helps boost comfort and stability for the thick-soled shoe featuring great shock absorption.

Inspired by the widebody design of racing cars, the forefoot area of P9600 is widened laterally to increase the contact area with the ground and reinforce the stability on lateral sides during landing.

E-TPU is adopted across the whole foot and its elasticity and pressure resistance match perfectly with the ENERGYMAX V on the heel, delivering an elastic, comfortable, and shock-absorbing wearing experience.

The upper is made with integration of breathable mesh, durable mesh, and TPU to provide elasticity, breathability, and perfect fit.

P9600 will be launched in Blue Wing Teal and Bright White color options. If you are looking for shoes with great shock absorption, then P9600 can be your best choice.

| | |
| --- | --- |
| Upper Material | PU V-Tough + Double Mesh + PU Leather |
| Midsole Material | Feather Resilient EVA + E-TPU + ENERGYMAX V + Carbon Power + Solid EVA |
| Outsole Material | VSR Rubber |
| Color | Blue Wing Teal/Purple |