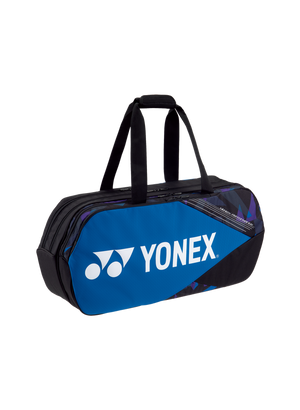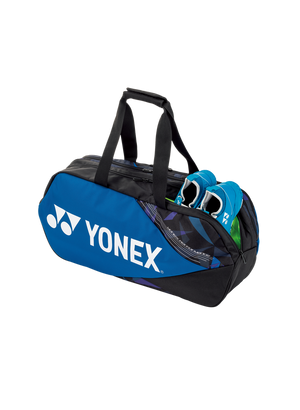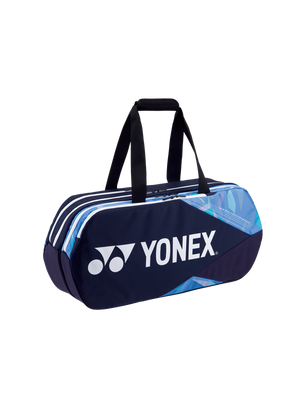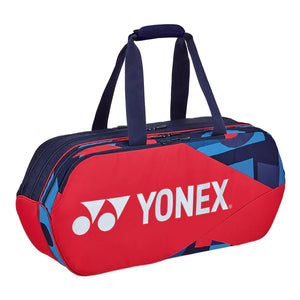 2022 Yonex Pro Tournament Bag 92231W
Tired of backpack straps getting caught on doors or in the way?  The new 92231W bag maybe just what you're looking for!  The sleek design is thinner than a typical racquet bag and is without backpack straps.  Instead has longer hand straps that can double as an over the shoulder carrier.  You've likely noticed the pros using such a bag as have wondered, "Where could I get myself one of those?"  Well, look no further.  
The 92031 bag has four different sized compartments to help organize your belongings.  The largest, has the width to carry shoes and other large bulky accessories and the length to also carry racquets if needed. The next largest compartment is mainly for racquets boasting enough space for three racquets comfortably.  The second smallest compartment is the length of a racquet, but very thin, it's recommended for medium sized accessories such as a towel, grip tape or grip powder, extra socks, etc.  Lastly, the smallest pocket, is very thin and can carry keys, wallets, and other small items.  
Color: Fine Blue. Navy/Saxe, Scarlet

Size: 29.5x7x13in. (75x18x33cm)

Large handle straps

3 compartments:

- 2x Racket Compartments (can fit shoes)

- Medium accessories Compartment (towel, extra grip)