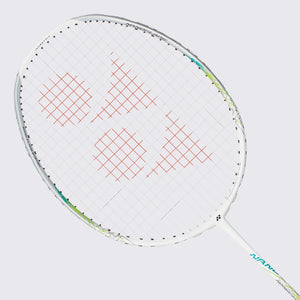 Yonex NANOFLARE 555 Badminton Racket
The Yonex NanoFlare 555 badminton racket is a headlight, high flexibility racket designed for individuals who want to generate strong smashes with a fast swing.  This is designed perfectly for beginner players who want a racket that they can swing quickly and get strong smashes, perfect for those who play doubles at the front of the net. 


Flex: Stiff
Frame: HM Graphite, M40X, SUPER HMG, VDM
Shaft: H.M. Graphite
Weight / Grip Size: 4U (83g), G5
Recommended Tension: 4U (19 - 27 lbs) / 5U (18 - 26 lbs)
Color: Marine
Made in Japan


*Stringing above the manufacturer's recommended tension can compromise the integrity strength of the racket frame. Therefore, will void the manufacturer's limited warranty.*
BadmintonDirect.com is an authorized dealer for Yonex Badminton, and all Yonex rackets come with a 1 year warranty against defects, if you encounter any issues during this period please email us at support@badmintondirect.com and we will be happy to assist you.